Psychological wellbeing, Transitional Periods and Identity  
It has been established that university negatively impacts on the psychological well-being of many students, resulting in an increase in psychological distress for this population, with almost 20% of an Australian sample of university students estimated to have experienced mental health difficulties and over 67% reporting sub-syndrome symptoms (Stallman, 2010). This Special Interest Group will be focusing on why university may represent a unique stressor. In particular we will examine the ways in which university represents a period of transitional identity, why transitional periods may lead to particular vulnerabilities to psychological decline (Kopla-Sibley et al., 2015). We will discuss cognitive and social factors that may constitute increased vulnerability (e.g. perceived incompatibility with new social identities; Iyer et al., 2009). During this Special Interest Group (SIG) we will convene along areas of aligned interest to discuss various approaches (curriculum based, university wide programs, and dialogue about higher education and policy more broadly) that may help students to negotiate this transitional period. The goal of this SIG is to build our awareness of the research, share innovative practice, and develop potential cross institutional collaborations with others.
Convenor
Dr Lydia Woodyatt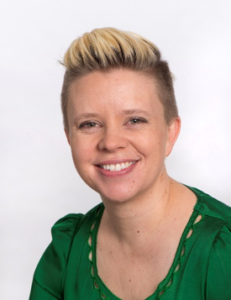 Director of First Year Studies (School of Psychology)
Flinders University
Dr Lydia Woodyatt the Director of First Year Studies (School of Psychology) at Flinders University, Adelaide.  A passionate, and award winning teacher, Lydia innovates in the context of curriculum to support transition into, and out of, university. Lydia is an experimental social psychology, combining her research interest with her previous career in pastoral care, speaking regularly to schools, universities, organizations, community groups, and the media on the topic of self-forgiveness, shame, self-compassion, and coping with negative emotions.
References
Kopala-Sibley, D. C., Zuroff, D. C., Hermanto, N., & Joyal-Desmarais, K. (2015). The development of self-definition and relatedness in emerging adulthood and their role in the development of depressive symptoms. International Journal of Behavioral Development. Online Edition DOI: 10.1177/0165025415573640
Iyer, A., Jetten, J., Tsivrikos, D., Postmes, T., & Haslam, S. A. (2009). The more (and the more compatible) the merrier: Multiple group memberships and identity compatibility as predictors of adjustment after life transitions. British Journal of Social Psychology, 48(4), 707-733.
Stallman, H. M. (2010). Psychological distress in university students: A comparison with general population data. Australian Psychologist, 45, 249-257.