Date: Tuesday 21st June 2022
Time: 11:00am – 12:30pm AEST
Venue: online
The STARS Psychological Well-being Network is dedicated to learning more about the initiatives and endeavours of our network members.
We are interested in hearing from you about:
– Ways of identifying wellbeing needs in our students
– New university wide interventions.
– Curriculum based approaches to support wellbeing or manage distress.
– Progress on university wide strategies.
– Challenges and Obstacles.
Convenor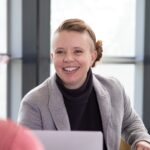 Associate Professor Lydia Woodyatt
Chair of Student Retention and Success
Flinders University
Assoc. Professor Lydia Woodyatt is a social psychologist with a focus on evidence based approaches to increase engagement, motivation, and wellbeing in relationships, work and education. She is an award winning teacher, creating and delivering curriculum to support student wellbeing and success, and co-designing co-curricular training programs for students and industry. Woodyatt chairs the Flinders University Retention Working Group, developing strategy and collaborative leaders to support student wellbeing and success. She sits on national advisory groups relating to mental health and wellbeing in universities, and is a member of the Orama Institute for Mental Health and Wellbeing at Flinders University, South Australia.