Date: The SERGE Network will be taking a break in 2023, but back at STARS in 2024.
About
Many academics, from a variety of disciplines undertake research on STARS themes and topics. The new STARS Research Network will be an opportunity for academic and practitioner researchers to discuss ways to strengthen and raise the awareness of high quality education research about the student experience and the practical applications of this research. The STARS Research Network will be convened by Dr Sarah Carr, founder of SERGE (Student Engagement Research Group) in the Otago Business School at the University of Otago. The purpose of SERGE is to showcase, nurture and develop quality research being undertaken on all types of student engagement, across all disciplines, and at all levels. SERGE has grown in momentum and now has domestic and international members and spans a wide range of disciplines. Building on the success of SERGE the interdisciplinary STARS Research Network, provides an opportunity for academic and practitioner researchers to share ideas, methods, and approaches to high quality research and to connect with other like-minded researchers for future projects.
Facilitators
Dr Sarah Carr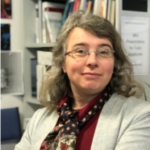 Sarah has been Programme Director for the Doctor of Business Administration degree at the University of Otago Business School having been involved since the inception of the programme in 2016. She currently teaches on both the Research Methods papers on the DBA. Originally, an historian with a passion for Vikings, Sarah has a background in quality assurance in higher education. Her research interests are in the areas of understanding learning styles, and supporting student engagement and learning outcomes, especially for international students having studied in four different countries at various stages herself.